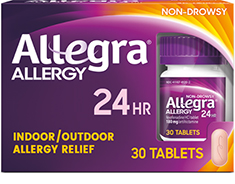 Case Studies
Case Study: ALLEGRA
Situation: Allegra had no prior learning about sampling effectiveness research results, since this was the brands first year being sold OTC. Therefore there was no data to base decisions off of. Allegra worked with SEA to avoid that risk.
Plans: SEA and Allegra had four different sampling vendors give quotes and recommendations on ways to execute their programs. SEA evaluated the proposals, giving feedback and direction on what had been shared. Allegra picked two of the best programs to execute in year 1.
Research: Consumer contact information and some category questions were asked at the same time samples were distributed. These consumers were contacted 8 weeks later by SEA and asked questions about sample trial, if the consumer had purchased the brand, (and if not, why not), etc.
Comparison: SEA showed the brand how the programs compared and which program actually delivered the better ROI.
Case Study: VIO (new product by Coca-Cola)
Situation: VIO was a new product in test market. The beverage appealed to consumers who were health conscious and who liked natural products. Due to limited budgets, the brand wanted to find out, 1.) should they be sampling to begin with, 2.) if so, to what target (and how/where)?
Plans: SEA helped design a small test in NYC to determine if the sampling was a good idea (the brand had limited distribution). We recruited health clubs to sample the product at. During the sampling event, we collected consumer contact information for a post market research study.
Research Results: Consumers were contact by SEA several weeks later and asked questions about sample trial, if the consumer had purchased the brand, (and if not, why not), etc. The results were shared with the brand and were used to make a determination about future sampling.
Case Study: Kraft Foods
Situation: Kraft was looking for an agency to come with a presentation to excite marketers about "new and innovative ways to sample".
Plan: SEA took the challenge but modified the strategy a bit. We suggested that Kraft actually consider reviewing sampling programs that had been proven to build business (via market research) and that these programs could become "new and innovative" by putting a new spin on them. We explained that new and innovative often means "risky and unproven" and that's not a good thing for sampling programs
Outcome: By utilizing programs that had lower cost structures (not so much "flash") and better sample controls, the brands could improve their product sampling ROI significantly.
Case Study: Schick
Situation: Schick wanted to measure several of their different brand's sampling programs, to give them an idea of which products should be sampled and under which circumstances sampling worked best.
Action: SEA designed and fielded several sampling effectiveness studies to give Schick a database of sampling results to reference. By comparing the results of different products in different settings, brands were able to determine beforehand if it would be a successful program.
Case Study: Unilever West Africa
Situation: The personal cleansing brands at Unilever (West Africa) were evaluating various sampling techniques and wanted help in reviewing their recommendations and initial concepts. They also wanted SEA to provide help with establishing benchmarks and ways to track results so they could improve their results over time.
Outcome: SEA reviewed the background work the brands had put together, providing perspective in areas where they needed help. We provided thoughts on ways the brands could measure results, compare them, and maintain a database for future marketers to utilize.
Case Study: Home Shopping Network
Situation: HSN was interested in expanding their services by offering shoppers samples of brands which complimented other products sold via the HSN network.
Action: SEA assisted HSN develop a media-supported sampling program which gave brands the opportunity to not only sample to HSN customers, but also take advantage of media options HSN offered them as well.
Discover how we can help, feel free to contact us directly.