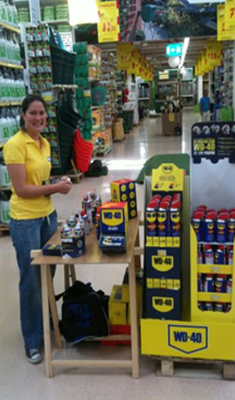 Why Sampling Advisors?
When I worked at P&G as Corporate Sampling Manager, I saw many opportunities to improve brand sampling results. Two primary areas that Sampling Effectiveness Advisors can help you with are:
1. Product Sampling Experience: Often, the most junior ABM was given the annual sampling plan to put together. Because new ABMs were encouraged to put their "mark" on the business, they often wanted to try new ways to sample.

Unfortunately learning suggested that very few new product sampling programs had a positive ROI . It takes time to refine a sampling program,to develop the program to where it's both effective and efficient.
Marketers rarely got the training they needed. It often takes a full year to develop a plan, have samples made, distribute the samples, then wait for post-effectiveness research results to come back.
By the time the results came in, that ABM had moved onto their next assignment. Then, the process would start all over again since the new ABM wanted to do something different as well.
Many believe that sampling plan development is a fairly simple assignment that any new ABM should be able to handle (or any junior agency person) but that's simply not the case.

There are many different decisions that go into the development of a strategic sampling program. Without the understanding of past research results, which requires an understanding of promotion effectiveness research methodology, the marketer often makes the wrong decisions.

2. Testing/Measuring Results – Because sampling often occurs with a new initiative, brands often look for a "one-time only" sampling opportunity.

If the brand is launching a hair product for teens this year, and a men's styling product next year – those sampling opportunities will look quite different.
Brands were reluctant to test a small quantity of samples first because the sampling needed to quickly support a new launch.
Brands also did not have budgets to support quantitative sampling effectiveness research. The research budget had to cover all the other types of research the brand wanted to do.

Without research, the brand never knew if the promotion was effective or if it was a complete waste of the brands budget.

Solution? Seeing that both of these major issues could easily be solved, I started Sampling Effectiveness Advisors (SEA) to provide brands the sampling expertise needed to develop strategic and effective sampling sampling plans, and to minimize sampling risk.

Sampling Effectiveness Advisors utilizes 20+ years experience across multiple CPG categories, across multiple types of sampling programs, and in designing and measuring many different sampling effectiveness research studies.
Note: there are many sampling suppliers with 20 years experience but that's just in their one area of expertise. SEA is the only company that offers unbiased advice on how to improve sampling results across all types of programs and across all categories.
Types of sampling include: event sampling, request sampling, professional sampling, direct mail sampling, guerilla sampling, intercept sampling, integrated marketing sampling and initiative sampling.

Cost Effective: SEA's involvement has little impact to the brand budget!

We can often wave our sampling planning/consulting fee by getting agreement to have sampling vendors cover it.
For market research, our fee is usually a third of what most research companies charge . We keep the study focused on the key measures and our deep expertise in this area makes it easy to get readable results at a low cost. Fees usually range from $3,000 to $4,900.

Where else can you spend $5,000 to ensure that your investment pays out?

Contact us today for help in developing a solid sampling strategy and a plan to measure your program results.